The Punisher Marvel Collector's Gallery Statue Interview with sculptor Joe Menna
09/06/2018
Right after Comic Con, our long awaited Marvel Punisher Collector's Gallery statue hit our warehouse and started shipping out to those that pre-ordered him. Today, we sit down with freelance sculptor Joe Menna who did this amazing statue for us to talk about his approach to Frank Castle, what he learned along the way and what he'd love to do next:
GGLTD: Can you give us a brief history of Joe Menna?
I am classically trained sculptor who finished his training in Russia, many years ago. After that I worked for some time in the fine art foundry world before my lifelong love of all things comic books, Star Wars, sci fi, and fantasy brought me into the collectible sculpting industry.
GGLTD: Do you remember the first sculpt you did for Gentle Giant Ltd?
Joe M: It was a Jar Jar Binks bust, the first of many Star Wars projects I've been lucky enough to do for Gentle Giant Ltd.
GGLTD: On average how long would a piece like this take you to sculpt?
Joe M: It can take anywhere from a month to two months, depending on how satisfied my art director is and if together we really nailed it.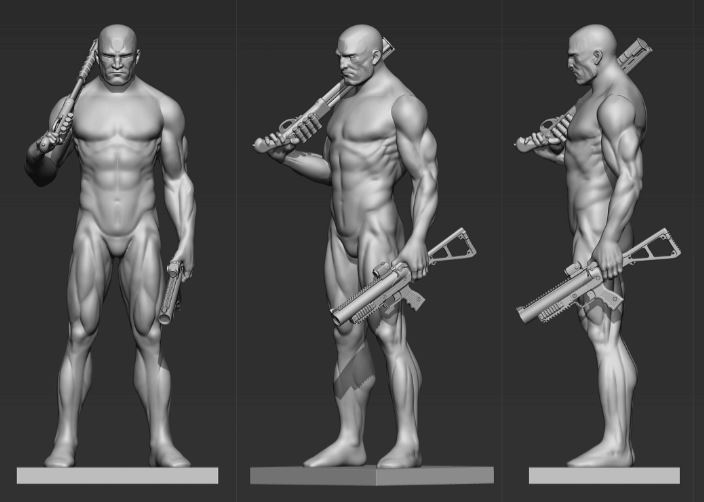 GGLTD: How many Punisher's would you say you have done in your career?
Joe M: This is actually the first one! I was a big fan of the classic Punisher from the 70's so this modern take on him was a joy to execute.

GGLTD: What would you say is new or different about this one?
Joe M: My art director, Aaron White had this amazingly cool idea to make him really look like he just stepped out of the comics instead of making him hyper-realistic. There's an angularity about him that I think is very sculptural and stylistically unique. I'm Russian academy trained, so I really drew on my monumental sculpture background along with my life long love of comics to really go for that look.

GGLTD: Is there anything you learned or discovered about the Punisher as you were working on the piece?
Joe M: I bought a lot of the collections of Frank Castle's more recent adventures to help catch up with the contemporary vibe of the character. It was interesting to see how much more multi-faceted he's become since I knew him as a kid and I tried to impart that gravitas to the piece. The concept art carried this feeling, too and I tried to match it as carefully as I could…it was amazing work.

GGLTD: The Collector's Gallery Punisher has a LOT of gear. How much and what sort of research did you have to do to make sure that his arsenal was accurate?
Joe M: This was the most difficult part of the project. Guns are very specific and often times, you don't want to copy them but rather make amalgams of different weapons that look like they could actually be in the real world.
Aaron gave me reference which I combined with the concept art and internet research to come up with the final look of the guns and gear.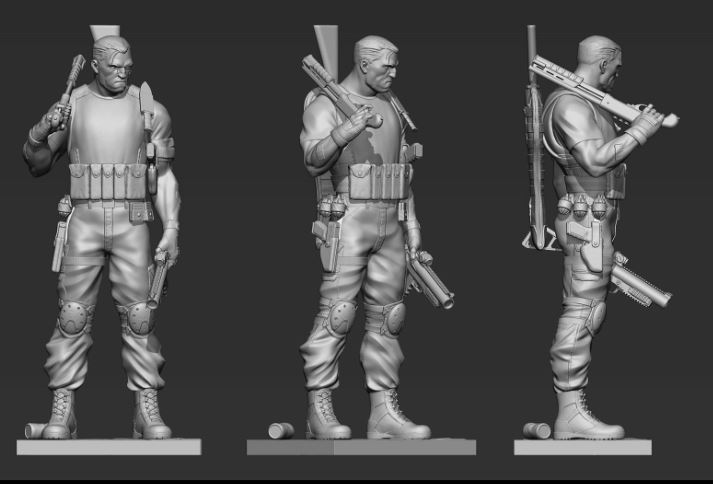 GGLTD: This version of the Punisher looks like he has a lot of emotional weight on his shoulders, how do you capture that sort of feeling in a static sculpture?
Joe M: I tried to make him feel like the burden of his mission was taking a toll on him emotionally by emphasizing his slightly hunched over posture and position of the head. I also tried to make his face look very stoic and tired. This isn't Frank quitting, it's just him pausing for a moment before he gets back to what he does.

GGLTD: Is there any character in the Marvel universe that you haven't had a chance to sculpt that you would like to work on?
Joe M: Omega the Unknown and Jack of Hearts would be the eclectic characters I would love to do along with more viable characters like The Silver Surfer, The Vision, Adam Warlock, Wolverine, and The Fantastic Four. I know you only asked for one but I am a total comics geek and am deeply passionate being able to celebrate these awesome characters for the fans who love them, too.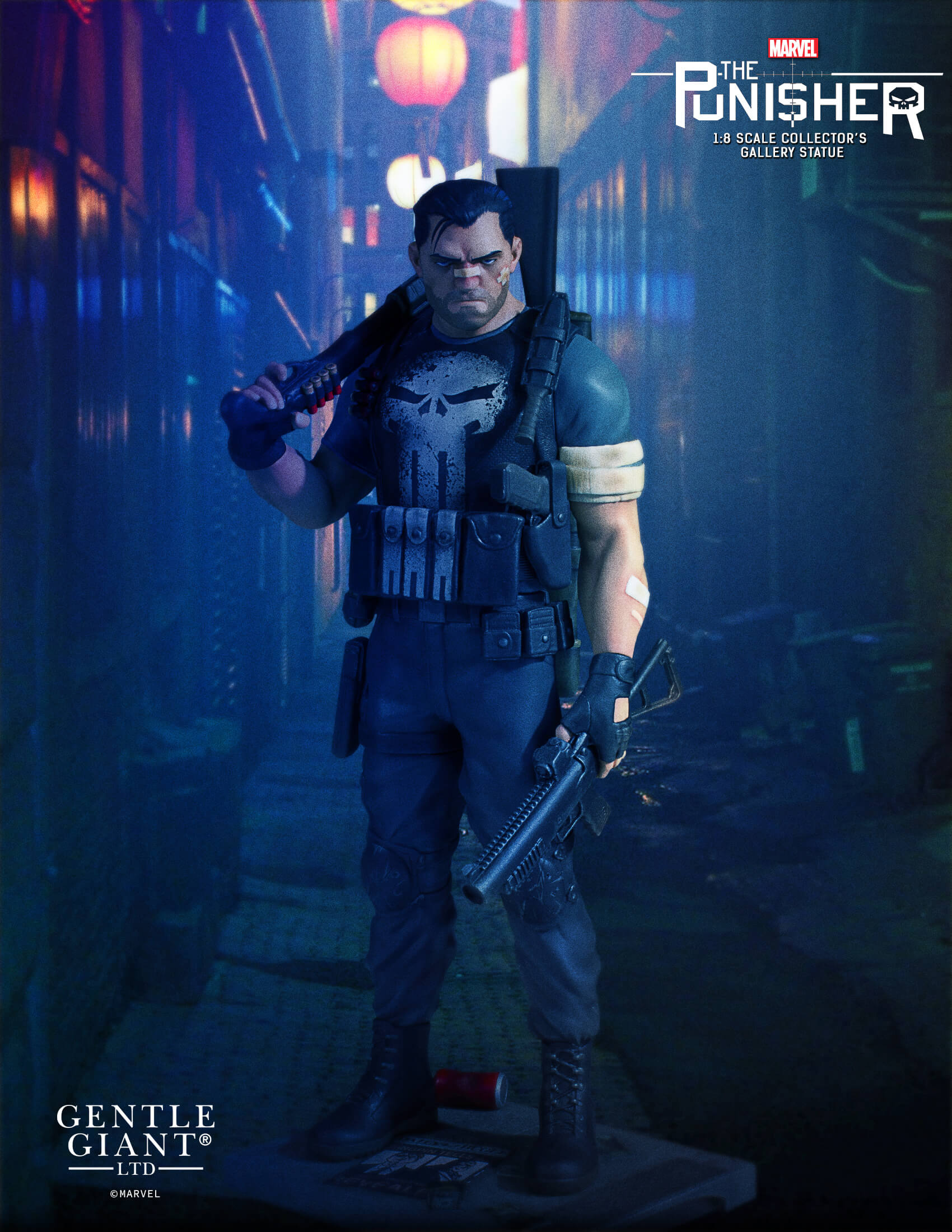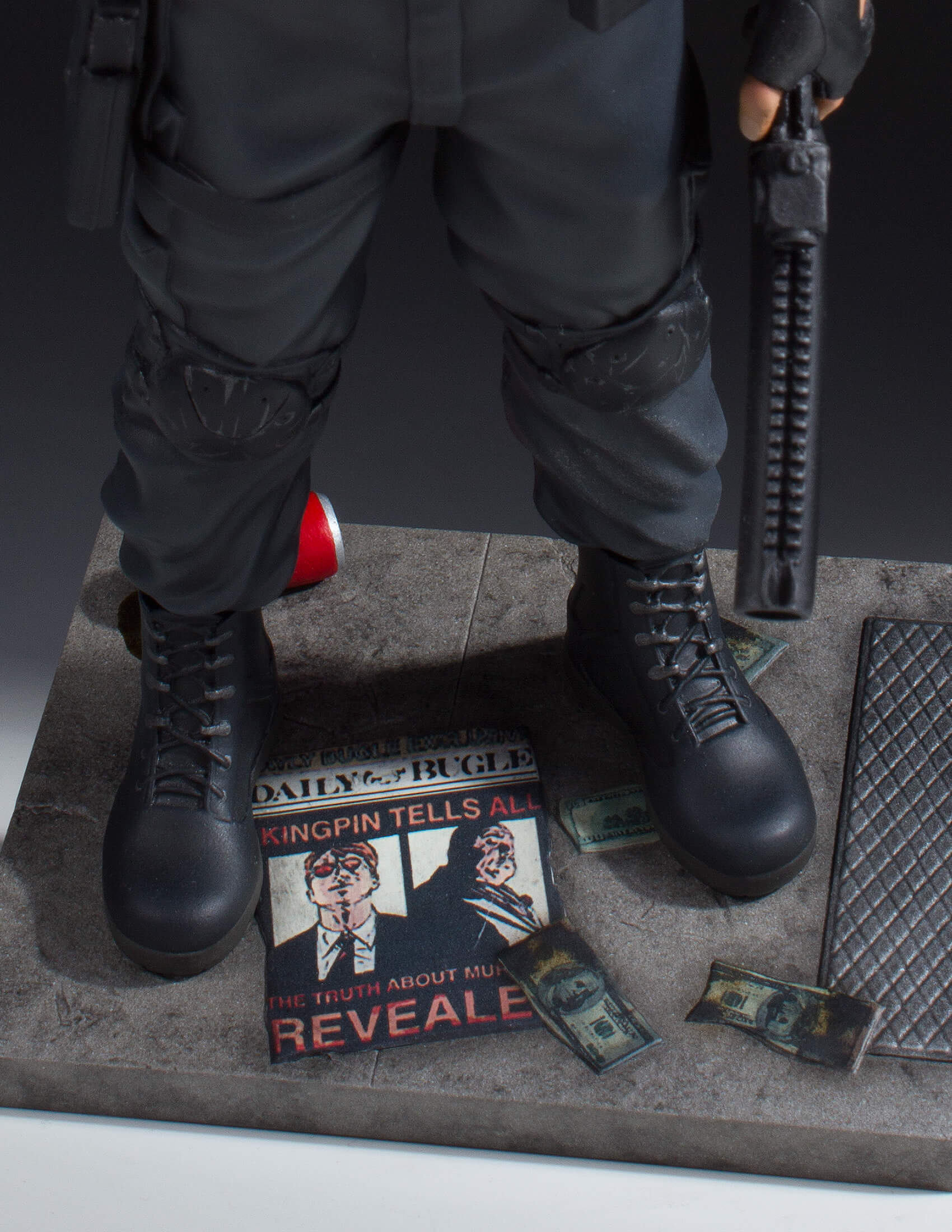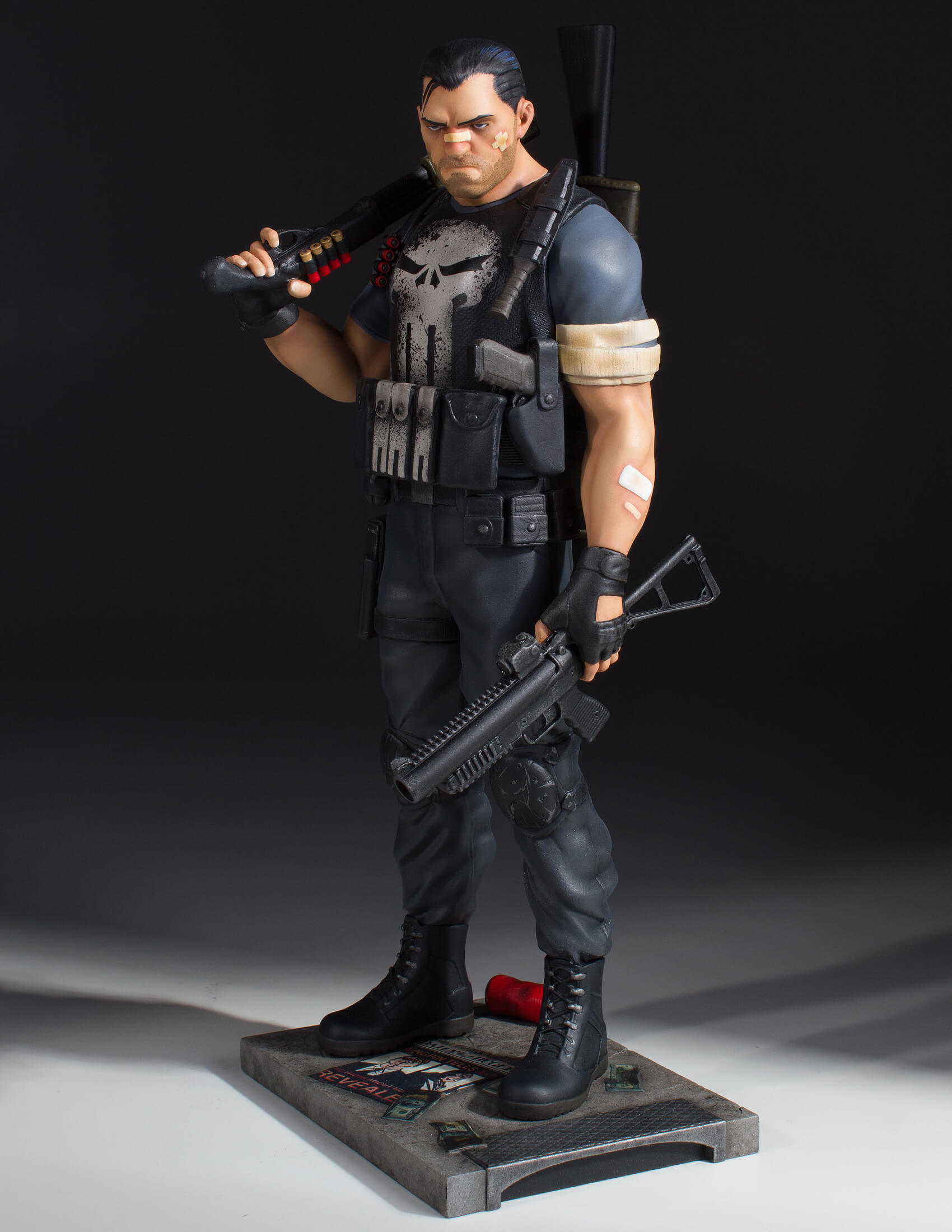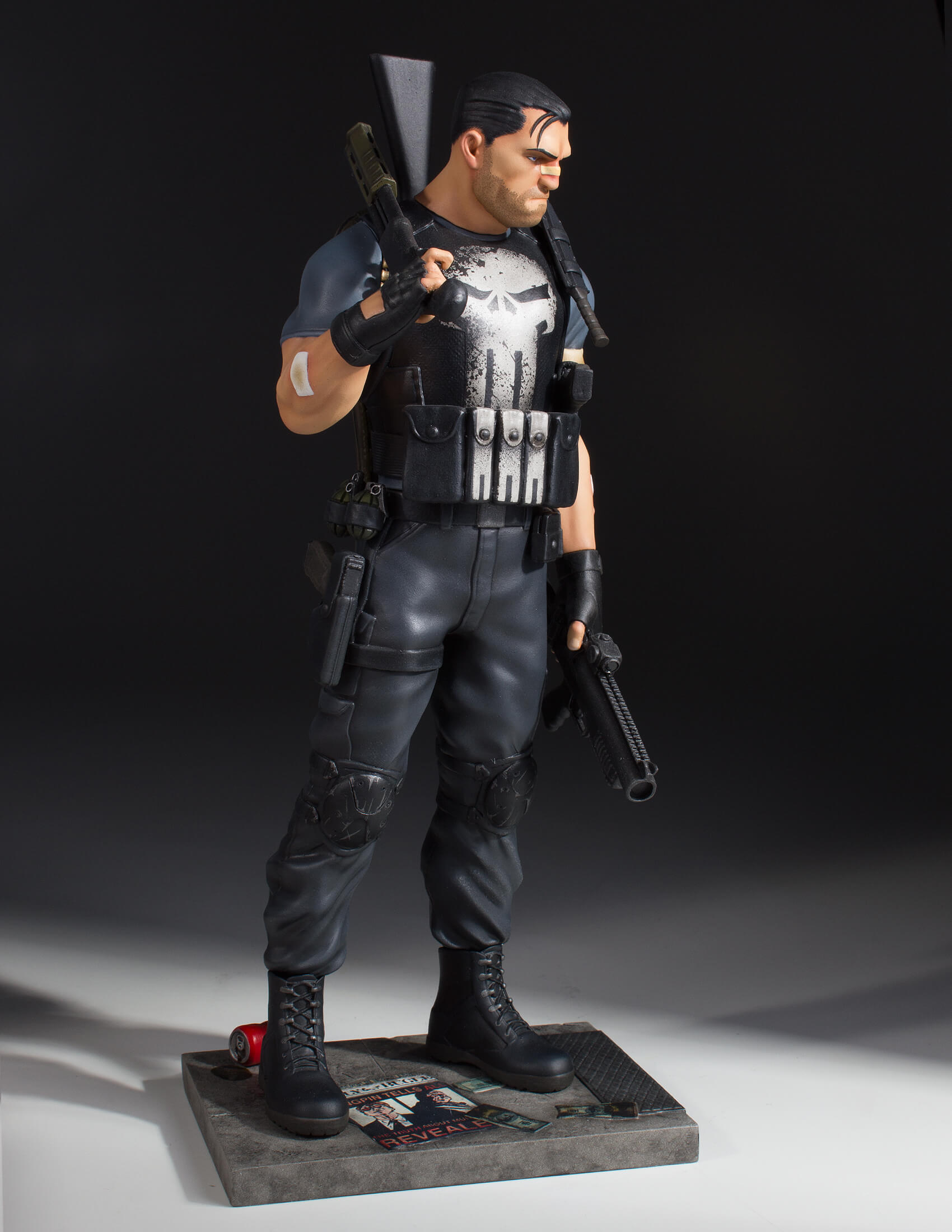 You can order this statue for your collection here!