FAN OF THE MONTH: AUGUST 2021
08/30/2021
Collector: Didier G.
Location: United Kingdom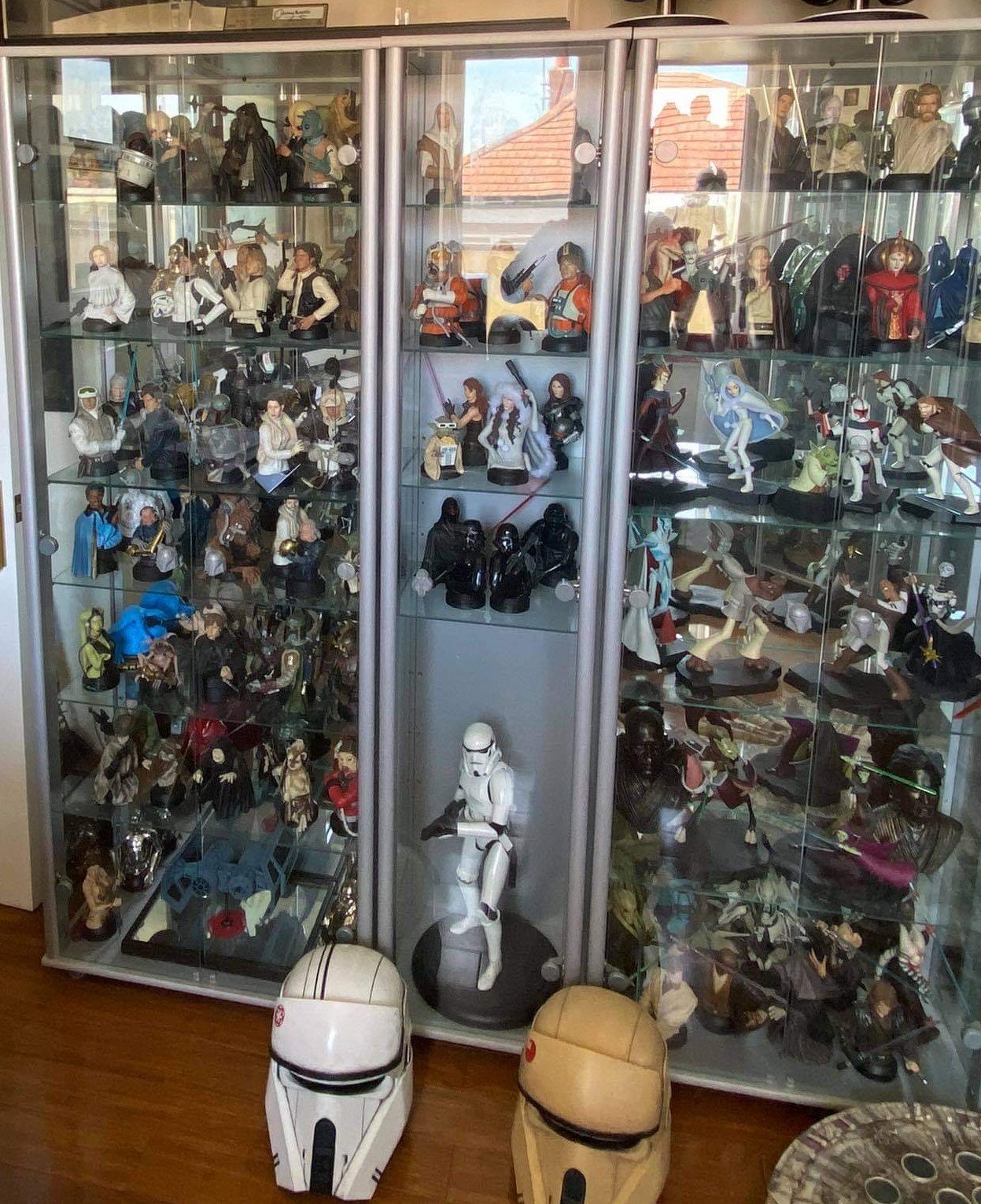 When did you first start collecting?
My first ever Star Wars piece's, and the start my steady fall Into the world of collecting, was the Summer of 1978. We had to wait a good 6 months before the film had hit our shores here in the UK and, like so many, I was instantly hooked!
How did you first start collecting?
My mum bought me my first two figures in the summer of 78. They were R2-D2 and Chewbacca. That was the start of it. My grandfather would then buy me one figure a month, ticking each off the list. By that Christmas I had all the first release figures, the land speeder and the x wing. All of which I still have to this day.
What do you collect? Does your collection have a theme, such as Star Wars, Marvel, Disney, etc.?
I used to collect anything Sci-fi related. Terminator, alien, Star Trek and so on. This was mainly due to the lack of Star Wars related items back in the day. But gradually I sold much of the collection and focused on my first true love, Star Wars! Now, 43 years later, my collection is now around 1000 pieces which includes busts, statues, prop replicas, autographs, figures, art and trading cards.
Thankfully I have an understanding wife.
What was the first item that started your Gentle Giant, Ltd. collection?
I came across Gentle Giant in an advert in the 2002 Attack of the Clones illustrated adaptation. This was for the Obi-wan and Anakin Skywalker mini busts. These were my first purchase's and I just loved the idea of a bust that was easy to display and of great detail. Also, back then they were just so affordable.
What are your favorite/most prized pieces in your collection?
I don't think I have a most prized piece. I love every part of my collection. I just can't display it all due to lack of room so occasionally rotate pieces from storage. It's like Christmas every time I do this as I forget how amazing a statue, bust or prop is that's been hidden away for so long.
That being said, I'm pretty chuffed with my studio scale Falcon as I built it from a kit and she's a beautiful hunk of junk.
What is the most recent item you've acquired?
The latest GG item that I've acquired is the Lak Sivrak mini bust. I try to stay on top of the busts but have missed a few over the last few years as I stopped the premier guild back in 2017. I'm now hunting for those via the internet or, when I can get to one, a comicon.